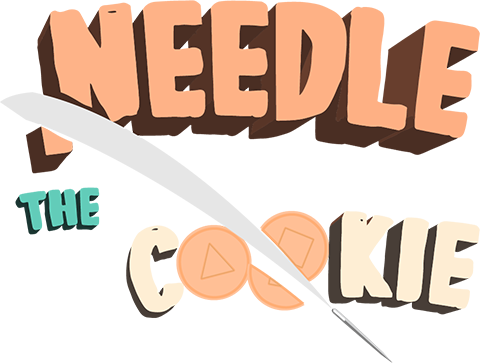 Needle The Cookie
A downloadable game for Android
Throw needles to cut out the drawings in the cookies
Needle The Cookie is a mobile hyper-casual game developed for Hyper Game Jam made in 7 days.

➤ Inspired by Knife Hit and the worldwide famous show Squid Game, Needle The Cookie is a game in which you throw needles to cut out the drawings in the cookies.
Fast-paced arcade gameplay, reminiscent of mobile hit games.
Satisfying sounds, just like if you were cracking cookies.
Collect masks to buy new needle's skins.
Challenging Final Boss at the end of each phase.

Credits
Needle The Cookie features haptic feedback and is compatible with most Android smartphones and tablets, and can also be played on PC with a mouse.
➛Diogo Frazão (Programmer)- Linkedin
➛Micael Silva (Programmer)- Linkedin
➛Rodrigo Fitas(Artist)- Linkedin
| | |
| --- | --- |
| Status | Prototype |
| Platforms | Android |
| Authors | Rio Studios, Diogo Frazão |
| Tags | 2D, android, Arcade, Casual, Hand-drawn, hypercasual, mobile, squidgame, Unity |
| Average session | A few minutes |
| Languages | Afar, Abkhaz, Avestan, Afrikaans, Akan, Amharic, Aragonese, Arabic, Assamese, Avaric, Aymara, Azerbaijani, Bashkir, Belarusian, Bulgarian, Bihari, Bislama, Bambara, Bengali, Tibetan Standard Tibetan Central, Breton, Bosnian, Catalan; Valencian, Chechen, Chamorro, Corsican, Cree, Czech, Old Church Slavonic, Chuvash, Welsh, Danish, German, Divehi; Dhivehi; Maldivian;, Ewe, Greek Modern, English, Esperanto, Spanish; Castilian, Spanish; Latin America, Estonian, Basque, Persian, Fula; Fulah; Pulaar; Pular, Finnish, Fijian, Faroese, French, Western Frisian, Irish, Scottish Gaelic; Gaelic, Galician, Guaraní, Gujarati, Manx, Hausa, Hebrew (modern), Hindi, Hiri Motu, Croatian, Haitian; Haitian Creole, Hungarian, Armenian, Herero, Interlingua, Indonesian, Interlingue, Igbo, Nuosu, Inupiaq, Ido, Icelandic, Italian, Inuktitut, Japanese, Javanese, Georgian, Kongo, Kikuyu Gikuyu, Kwanyama Kuanyama, Kazakh, Kalaallisut Greenlandic, Khmer, Kannada, Korean, Kanuri, Kashmiri, Kurdish, Komi, Cornish, Kirghiz Kyrgyz, Latin, Luxembourgish Letzeburgesch, Luganda, Limburgish Limburgan Limburger, Lingala, Lao, Lithuanian, Luba-Katanga, Latvian, Malagasy, Marshallese, Māori, Macedonian, Malayalam, Mongolian, Marathi (Marāṭhī), Malay, Maltese, Burmese, Nauru, Norwegian Bokmål, North Ndebele, Nepali, Ndonga, Dutch, Norwegian Nynorsk, Norwegian, South Ndebele, Navajo Navaho, Chichewa; Chewa; Nyanja, Occitan, Ojibwe Ojibwa, Oromo, Oriya, Ossetian Ossetic, Panjabi Punjabi, Pāli, Polish, Pashto Pushto, Portuguese (Portugal), Portuguese (Brazil), Romansh, Kirundi, Romanian Moldavian Moldovan, Russian, Kinyarwanda, Sanskrit (Saṁskṛta), Sardinian, Sindhi, Northern Sami, Sango, Sinhala Sinhalese, Slovak, Slovene, Samoan, Shona, Somali, Albanian, Serbian, Swati, Southern Sotho, Sundanese, Swedish, Swahili, Tamil, Telugu, Tajik, Thai, Tigrinya, Turkmen, Tagalog, Tswana, Tonga (Tonga Islands), Tsonga, Tatar, Twi, Tahitian, Uighur Uyghur, Ukrainian, Urdu, Uzbek, Venda, Vietnamese, Volapük, Walloon, Wolof, Xhosa, Yiddish, Yoruba, Zhuang Chuang, Chinese, Chinese (Simplified), Chinese (Traditional) |
| Inputs | Mouse, Smartphone |
| Accessibility | High-contrast, Interactive tutorial, One button |
Download
Click download now to get access to the following files:
NeedleTheCookieAPK.zip
22 MB